Doug and Helen successfully complete this wonderful race but Jim DNFs with a broken hip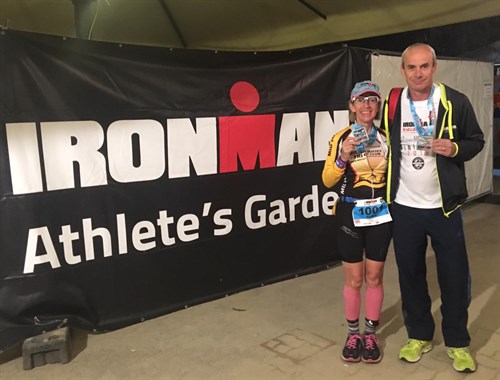 Background
The ancient fishing village of Cervia hosts a spectacular race that takes place along the coastal Emilia-Romagna region flanked by the Adriatic Sea. Italian village vibe and historic scenery plus very hospitable local people. The biggest ironman event currently, with approximately 3,000 participants.
Pre race
Doug, Helen and Jim signed up for this fast warm weather triathlon. Doug's wife, Carol came along to provide essential support.
Swim
Relatively fast sea swim with pleasant temperature but not too hot for wetsuits. Doug, Helen and Jim completed the swim near to personal best times despite significant currents and a lot of contacts due to the large number of swimmers.
Bike
A fast 2-loop closed road cycle that is mostly flat except for one sharp hill climb and descent that is the same for each loop. Doug and Helen managed near personal best bike splits. Jim was matching his 2015 lifetime best Ironman race for both swim and cycle pace when he suffered a front wheel puncture at 25 mph at mile 60. Jim lost control of his bike due to the puncture and sustained a broken hip when he crashed.
Run
Doug and Helen finished strongly with good running. Doug got a new personal best time for this distance in a shade over 12 hours. Helen was just a couple of minutes slower than her personal best in 15:43. Jim was achieved terrific speed in the ambulance on his way to one of Italy's top trauma centres.
Post race
Carol deduced that Jim was in trouble and with perseverance she found Jim in a hospital many miles from the race venue. Helen and Doug's celebrations were bit subdued due to Jim's crash.
Reflections and Acknowledgements
There was one digit wrong with Carol's phone number written on the back of Jim's bib number so the messages left for Carol were sadly useless. Ironman staff had been told by roadside officials that the injury was a grazed elbow and they had not been told where the ambulance had gone to. It was amazing that Carol managed to track Jim down in an orthopaedic ward with a broken hip in order to provide much needed emotional support. Jim had blown his chance to compete with Alistair Brownlee at Ironman Kona 3 weeks later. Jim had completed 99th marathons prior to this race and the 100th could be many months away now.