Sunday 20th March
Balcombe Bull Run 
Four members joined this popular event involving a 7km cross country run around the Balcombe Estate, starting at Balcombe School.  Tom Haywood was the first Mid Sussex Triathlon Club member to finish in 4th place (30.25), followed by Jo Fleming in 10th place (32.44), Jon Clark (40.30) & Esther Clutton (40.43). The event is run by Matt & Michelle Record and this year it attracted nearly 130 runners. The proceeds from the entry fees raise funds for Balcombe School, St Catherine's Hospice and Heads On.
Hastings Half Marathon
Gareth Handley and Adam Bryant competed in this tough event known for its large number of hills and strong headwinds. Gareth finished in 1.35  and Adam in 1.50. The event is run by The Hastings Lions Club in aid of needy causes.
Moyleman Marathon, Lewes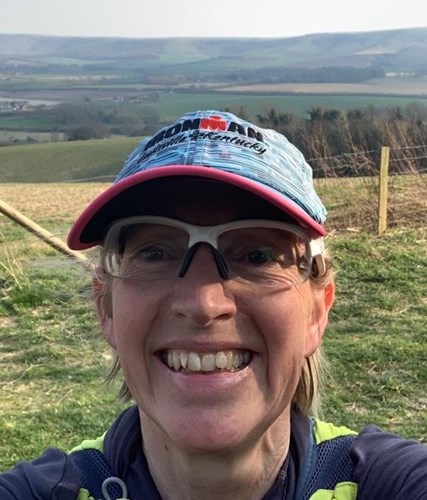 This is a tough multi terrain off-road marathon on the Downs near Lewes. It attracted club member Helen Graham who was competing in her
8th
marathon so far this year. Helen commented that it was very hilly but she was delighted with the Harvey's Pint glass prize at the finish, which was immediately filled with Harvey's beer.
Sunday 6th March
Steyning Stinger
This 
is a hilly cross-country run through the South Downs between Steyning, Storrington and Shoreham-by-Sea.
Mike Hook, Sharon Chladek, Helen Graham and Douglas Mac Taggart all competed in this event this year. Mike and Sharon ran the Half Marathon in 2.15.25  and 2.49.29 respectively, with Mike coming 22nd in his age group and Sharon 8th in her age group. Mike's young children were delighted to greet him at the finish. Doug and Helen were in the full marathon with Doug finishing in 4.55.09 and Helen in 5.35.19 in her 7th Marathon of the year.
Frosty Aquathlon
The Frosty Aquathlon is a well established and popular swim/run race comprising an 800m swim in the 25m pool at Littlehampton Wave, followed by a 10km run around Mewsbrook Park and the seafront promenade. Phil Couch placed 5th overall and 1st in the MSV category in 54.53.08. In the MV Category Gareth Handley was 4th in 57.54.09, and Jo Fleming was 8th in 1.00.59. Flo Wolfe was 8th Female and 5th in her FS category in 1.02.00. The four were delighted to place 2nd in the team competition.