More than 260 athletes took part in Mid Sussex Triathlon Club's annual sprint triathlon on Sunday 9th June, held at the Triangle Leisure Centre in Burgess Hill.
This year's sunny event attracted 85 female and 175 male competitors, ranging in age from 15 to 70. Competitors were mostly from other clubs in Brighton, Horsham, Crawley, Steyning, Crowborough and East Grinstead, but a few came from much further afield, including Ashford, Ealing and Devon. About a third of the athletes were beginners taking part in their first triathlon.
The sprint triathlon involves a 400m pool swim, a 25km bike ride through country lanes in Wineham and Twineham, and a 5km run in Burgess Hill. Fifteen competitors took part in the Aquabike event, involving just the swim and cycle, and there were also four relay teams, each with three athletes completing one discipline each.
The winner of the women's event was Sally Bliss in a time of 1.16.59, with Harriet Cunningham of Brighton Tri Club second in 1.17.01. Georgina Tasker of the Mid Sussex Tri Club was third in 1.19.53. Hannah Droscher was the second Mid Sussex Club member to finish in 1.30.40, followed by Sally Gardner in 1.32.30.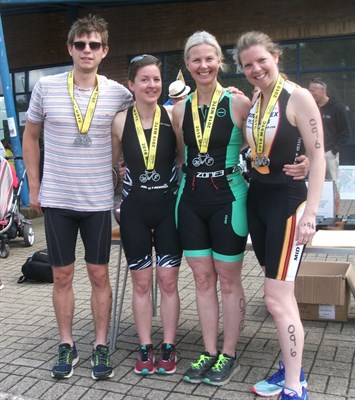 The winner of the men's event was Mik Onions of Brighton Tri Club in 1.03.46, with Jon Salisbury of Horsham Amphibians second in 1.06.36. Charlie Mactear was third in 1.06.43. The first Mid Sussex Tri Club member to finish was Dan Anniston in 1.10.31, followed by Luc Berthouze in 1.13.34 and Tom Spensley in 1.17.05.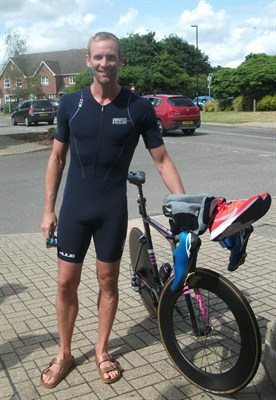 There were several age group prizes, as well as an award for the Spirit of Triathlon, plus many spot prizes and a race number raffle. Each participant also received a goodie bag. The prizes were donated by local organisations including Hurstpierpoint College, Dinnages, CAE Simulation, Piople for Places, Tesco and Waitrose in Burgess Hill, Wisdom Sports, The Perrymount Clinic, Hassocks Opticians, Swim Secure, The Tri Store in Eastbourne, The Chia Co. Chia Seeds and Mint-Ease. Charlie Langhorne from exhibition organiser Wild in Art was also a much-appreciated sponsor and also marshalled at the event wearing a bear suit, which won him the Best Marshal prize.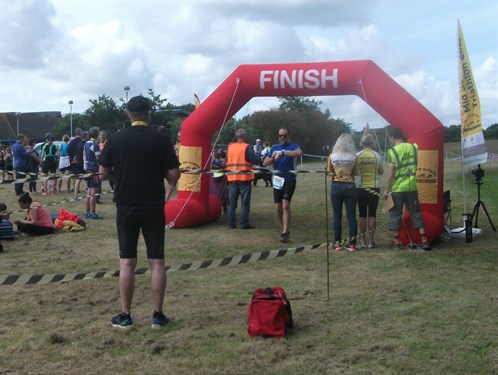 This triathlon has a reputation as a very welcoming event and is ideal for beginners, as well as experienced triathletes. It is marshalled by members of Mid Sussex Triathlon Club, who this year received many compliments from competitors on the club's Facebook page about their friendliness and encouragement.
Race Director Jo Fleming, in his first year in this position, was very pleased with the successful outcome of the event.