Mid Sussex Triathlon Club is 3rd club out of 66 in SE England to achieve Trimark Club Bronze Accreditation
Last Tuesday evening Kelly Wickens from Triathlon England SE attended the club's open water swim session at Ardingly Reservoir to present the Trimark Club Bronze Accreditation Award to members.
The Bronze level is the entry point into the Triathlon England accreditation scheme. This level outlines that the club has confirmed it is a community club with a management committee, that it has a constitution, an active activity programme, and a Welfare Officer. Additionally the club coaches must be operating within their qualification remit and the club should have an open and inclusive membership offer. The Mid Sussex Triathlon Club is the 3rd club out of 66 in the South East Region to achieve this award.
The open water swim sessions have proved to be very popular this summer with between 20 and 30 and sometimes over 40 swimmers taking part in the Tuesday evening and Saturday morning sessions.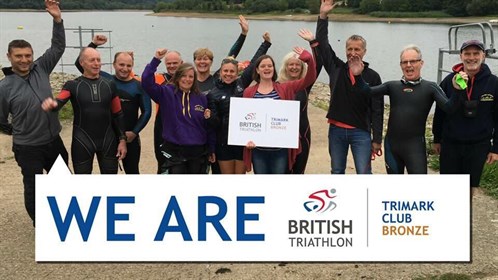 Eastbourne Rovers Cycling 10 Mile Time Trial: East Hoathly to Boship and back on A22
The Club's 10 mile TT Best All Rounder competition took place on Saturday 8th September within the Eastbourne Rovers event on the A22. Top woman was Emma Smith in a time of 32.41 (a PB) closely followed by Clair Hunt in a time of 34.23. Top man was Lawrence Wintergold in a superb time of 22.40 followed by Phil Couch 25.19. Derek Hastings (age 70+) rode brilliantly in 30.44.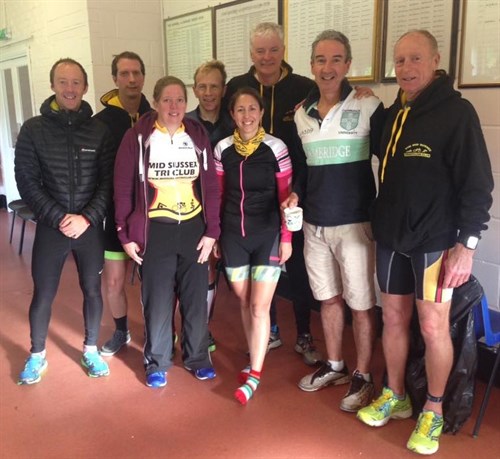 Ironman Wales
Meanwhile club member Doug Mac Taggart competed in the Ironman Wales event at Tenby on Sunday 9th September. Doug reported that he struggled a bit with his breathing initially in the swim, probably due to four weeks of no swimming, the last being at Maastricht in 27 degrees, and it was only 16 at Tenby. However he had a decent bike ride on the notorious hills, although not helped by pretty strong winds, and finished off with a good run to get around in 13:40:24. This event includes a marathon run which was Doug's 189th marathon. He plans to complete marathon number 190 at the Chiltern 50 next weekend and his 200th in Brighton in 2019, where he also ran his 100th marathon.