Open Water Swimming at Ardingly Reservoir
The Club's Open Water swimming has now commenced at 8.15am on Saturday mornings and 6pm on Tuesday evenings. Usually between 20 and 40 swimmers participate.
This is one of the club's most popular activities and the club is the only organisation which has an agreement for swimming in Ardingly Reservoir with the Activity Centre.
Ironman World Championships, St George, Utah, USA
Having qualified last year, Stewart Conway went all the way to Utah for the World Championships. However he suffered a stress fracture in training so could not push himself. Despite this setback, decided to go to enjoy the experience, finishing in 12hrs 37mins 30secs. Reporting after finishing he said it had been an awesome experience and he had loved every minute of it. This was despite the 33 degrees of dry heat, very strong winds and more elevation on both the bike and the run than pretty much any other Ironman.  However he said his inability to pedal to full power or run had possibly played to his advantage as he could have been knocked over by the the strong winds, as happened to so many other athletes.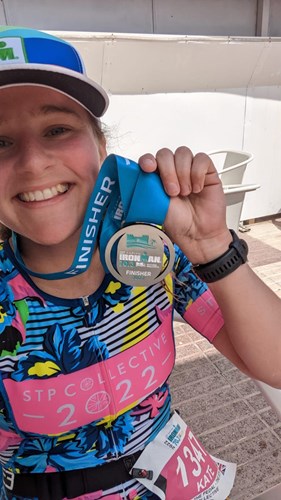 Ironman 70.3, Alcudia, Mallorca 7th May
Three members went to Alcudia to compete in the Ironman 70.3 (1.9km swim, 90km bike & 21.1km run) in warm and sunny conditions.
Andy McGregor finished in 5.49.40 followed closely by Katie McGregor in 5.53.11. Kate Bradford was delighted to finish in 6.44.42, although commenting that 90km on the bike felt a long ride.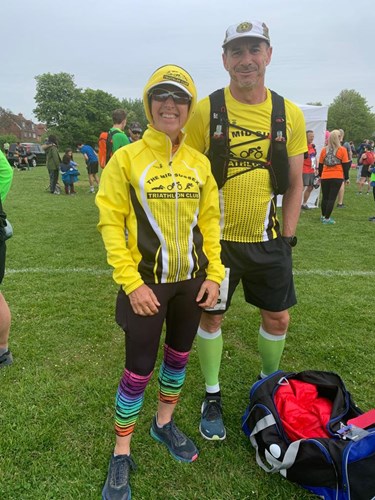 Three Forts Challenge, Sussex Downs, 1st May
Helen Graham & Douglas MacTaggart took on this tough marathon, which is mainly on the Downs between Devil's Dyke and Cissbury Ring. It has 3450ft of climb and for this reason is known as The Tough One. Helen said she ran faster with Doug than she would have without his company.
The Mid Sussex Triathlon, Sunday 12th June
Members are looking forward to hosting the popular Mid Sussex Triathlon at The Triangle, Burgess Hill on Sunday 12th June.