Mid Sussex Triathlon Club
It has been a busy weekend for members participating in Swimming, Sprint and Ironman Triathlons and cycling Sportives.
Ironmans at Bolton & Bavaria
Doug Mac Taggart was at Pennington Flash lake on Sunday 3rd July for the Bolton Ironman (3.8km swim, 112km bike & 42.2km run. Doug finished 27th out of 60 in 14.32.08 in the M55-59 category.
Meanwhile Stewart Conway had travelled to Bavaria in Germany for the world's biggest long distance triathlon event at Roth bei Nurnberg. Stewart finished 45th out of 594 in the M50 category in 10.43.38.
JLL Property Triathlon event at Dorney Lake Friday 1st July
Tom Wade did brilliantly placing first in his M 35-39 age group in the 2.2km swim in Dorney lake. Meanwhile Florence Wolfe and David Howard Jones completed the Triathlon (750m swim, 21.2km bike & 5km run) in 1.26.30 and 1.33.23 respectively.
Hever Festival of Endurance 10km Swim
It was Adam Bryant's first time in the 10km swim and was happy with his time of 4hrs 11 mins considering the weeds a twisty course and a nice medal.
Wolfe Sportive Bike Ride, Westerham
Simon & Joanne Barton and Sam Crofts enjoyed the popular 72 mile ride through the lovely Kent countryside.
Eastbourne Triathlon 12th June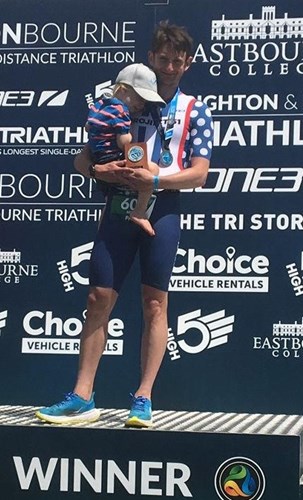 Paul Newsome had a brilliant result, placing first in the M35-39 category and 7th overall in the Eastbourne Standard Triathlon (1500m swim, 36.6km bike & 10km run) in 2.09.53. Richard Brazier also participated in the M55-59 age group, finishing in 2.46.28.