Barry Davids, Paul Newsome and myself travelled to Edmonton, Canada to race in the World Triathlon Championships, Olympic Distance. The town was awash with flags, and everywhere was the official race slogan...it's going to be epic. Barry travelled via Icelandic Air, he wanted a close up view of some ash clouds. I took out a second mortgage and took advantage of the Team GB official travel package, Paul got his mum to drive most of the way.
We were all together by Saturday, in preparation for our race on Monday 1st September, Labor Day! And it was! The event was the Grand Final of the World Triathlon Series, and the Brownlees, Gomez, Mola, Jorgansen, Stimpson and all, had travelled to Edmonton. Barry met Jorgensen and Groff in our hotel lift...so he says, where's the selfie Barry? If there is such a thing as a triathlon festival this was it, with races for almost a week. There were various Aquathon Worlds, Sprint Worlds, Junior Worlds, Para Worlds, Olympic Worlds, Relay Worlds, u23 Worlds and Corporate Triathlons.
Barry immersed himself in the whole event, watching most of the races and every time I saw him he had made another lot of friends. We were spoilt, with free transport, free access to pools and gyms and free maple syrup. The logistics were amazing, and sometimes mind bogglingly complex. There were ankle timing chips, bike timing chips, black body numbers, green wetsuit numbers, bag drop numbers, registrations, penalty boxes and briefings to attend to. With bikes having to be in place Sunday, and kept under guard. Paul took his hotel blanket to keep his bike warm. Edmonton had cleaned the swim lake, emptying it, lining it and then chlorinating it! I am not joking. It was very strange swimming in a lake that smelt like a swimming pool, but it did make drafting easier.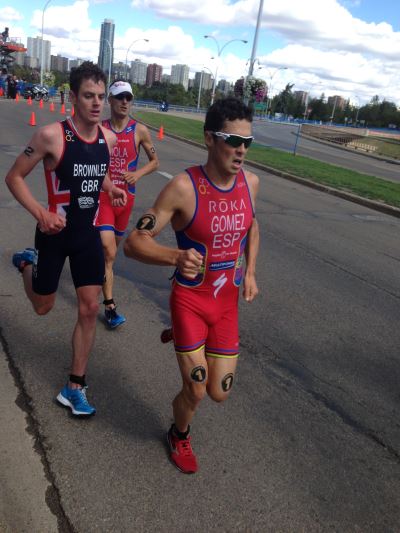 Watching the Elite Men on Sunday was awesome. It was like Niagara Falls at the start, with only the occasional arm or leg visible amongst all the froth. It was a brilliant race by Alistair, and amazing to get some close up views and pictures. I can honestly say that the Elites hurt just as much as you when racing. We were relieved when race day arrived, and eager to emulate the dive start off the blue carpet. At least we kept our goggles on Alistair!
The bike route was glorious, fast but with enough hills and fast bends to test our bike handling skills. I loved being in a wave just made up of my age group...just a bit of a shame I watched most of them disappear at the start! Barry's had an unbelievable swim, 25.05, extraordinary with one arm. Paul had a simply brilliant ride, the fastest time I have very seen by a club member in an Olympic, 1.00.09, wow ( he did have a nice warm bike). I had an unbelievable slow swim and run, managing 49th in my wave of 90. The run was flat, fast but a very long 10km.
Official times were:
Paul, 25.55 swim, 2.42 T1, 1.00.09bike, 2.19 T2, 43.25 run, 2.14.17 total time, 43rd
Martin 27.08 swim, 3.04 T1, 1.02.43bike, 2.56 T2, 47.38 run, 2.23.30 total time, 49th
Barry 25.05swim, 3.07 T1, 1.06.12, bike, 2.52 T2, 46.32 run, 2.23.49 total time, 51st

We all received the coolest medal ever, on the reverse was embossed ...It was epic. It was.