Saturday 11th September
Swimrun Holy Island, Anglesey
Three members went to North Wales for this coastal event (see image above). The sprint category of this event involves four swims (total 2.1km) and five runs (total 7.9km) along the beautiful coast of Anglesey. In order to get the most enjoyment from the event, Jean Fish, Sarah Hinton and Kay McMenamin ran together, finishing in 2.46.10.
5km Adur Swim
Eight members entered this event which starts in Shoreham with a 2.5km swim upstream in the slack water at high tide. Swimmers must avoid sandbanks to have a clear route. After turning at 2.5km the second half of the swim is then aided by the outgoing tide.
Kate Bradford was the first member home in an impressive 1.15.07, followed by Barry Davids (1.17.02), Esther Clutton (1.19.31), Liane Davids (1.22.54), Vicky Von der Linden (1.28.08), Adam Bryant (1.29.22), Vicki Revis (1.31.55) and Kirsty Perryman-Best (1.32.00). Vicky Von der Linden was pleasantly surprised with her time as she had not managed much training.
Sunday 12th September
Half Ironman Bowood Wiltshire
Luc Berthouze enjoyed the Capability Brown parkland setting but there were some challenging hills for this very scenic half ironman event (1.2m swim, 56 mile bike, 21.1km run) on Bowood Estate, finishing in 5.05.50.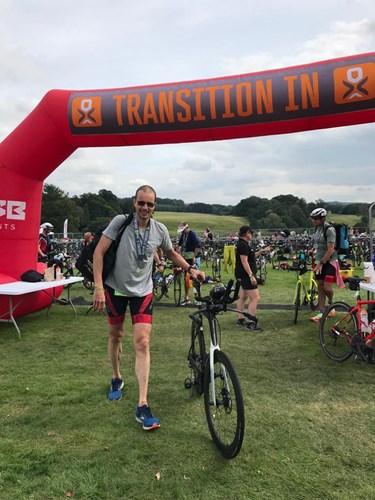 Brighton Marathon
Five members participated in the Brighton marathon this year in warm, sunny weather. Tom Haywood was the first to finish in a respectable 3.06.59. Mike Jaffe finished in 3.20.34, followed by Doug MacTaggart (4.55.10), Angela Murray in her first marathon (5.41.29) and Helen Graham (6.34.11). The organisers have apologised as the course was 568m too long!
World Long Distance Triathlon Championships Almere, Amsterdam
Stewart Conway continued in World Championship events in Amsterdam this weekend, finishing in 10.06.36 and placing 13th out of 34 in his M45 age group and 83rd out of 233 overall.