Ironman Uk at Bolton
While many in the country were still in bed, the competitors of Ironman UK 2021 were setting off on a daunting physical test in Bolton. Athletes began early in the morning with a 2.4-mile swim, followed by a 112-mile bike ride around the town, before running a full marathon, all in the pouring train, making the bike run treacherous.
Stewart Conway and Doug MacTaggart were keen to take part as the event had to be postponed last year due to Covid. Stewart completed the course in a respectable 11hr 42 mins 10 secs giving him 12th place in his age group and  97th place overall. Doug, who specialises in Ultra Marathons and who was competing in his 16th Ironman, finished in 15.46.18 to place 1012th in this very popular event.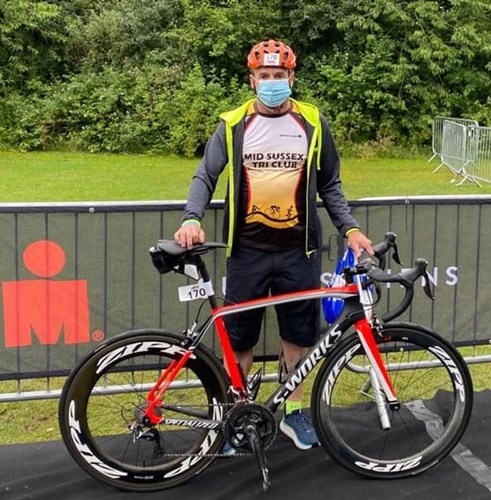 Outlaw Holkham Half Ironman
Outlaw Half Holkham is known as one of the UK's most beautiful triathlon events with the 18th century Holkham Hall providing an inspiring backdrop to the swim. Luc Berthouse competing in his first Half Ironman was delighted to come 7th in his age group with a good time of 4.57.42. This also placed him 117th out of 1125 competitors.

Hever Castle Long Aquathlon
This event is part of the Festival of Endurance and comprises a lengthy 3,800m swim followed by a 21km run. Adam Bryant came 2nd in his age group for the second time, and 8th overall in what he described as probably the hardest race he'd ever done.
Ardingly Reservoir Open Water Swimming
Meanwhile the club's open water swimming continues at Ardingly on Tuesday evenings and Saturday mornings. This is the club's most popular activity with 39 swimmers on Saturday.