British Middle Distance Triathlon Championship at Hever Castle 8th July
Mid Sussex Triathlon Club Member Kate Mactear, who is studying for a Masters Degree at Bristol University, achieved a magnificent 3rd place with a time of 5.19.47 in the British Middle Distance Championships held within the Festival of Endurance Gauntlet event at Hever Castle. This is an event in the popular Castle Triathlon Series and involves a 1.9km swim in Hever Lake followed by a tough 90km bike ride round the High Weald of Kent anf the Ashdown Forest, and finishing with a 21km run with a challenging off road element.
Vitoria Gasteiz Midddle Distance Triathlon, Northern Spain 8th July
New member Amanda Hyatt achieved 2nd place in her age group with a time of 7.21.11 in this popular event held in the Capital of the Basque Autonomous Community in Northern Spain. It comprised a 1.9km swim in Ullibarri-Gamboa lake, a 94km bike ride around the beautiful landscape of Alava, and finishing with a 21km run through the medieval town. Amanda commented that the club's open water swimming sessions at Ardingly Reservoir had given her the confidence to tackle the swimming part of the event.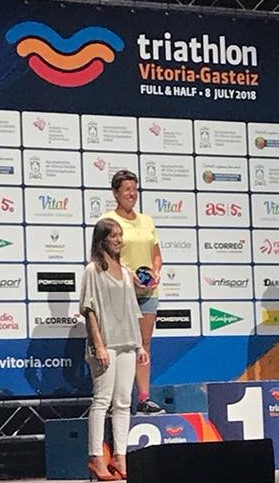 Thorpe Park Middle Triathlon, 14th July
Emma Jayne Smith took on her first Standard Distance Triathlon at Thorpe Park (1.5km swim, 40km bike, 10km run) finishing in 3.27.36. She commented that it had a nice course, was well organised and very enjoyable.