The Mid Sussex Sprint Triathlon was held at The Triangle Leisure Centre on Sunday 13th June with 59 female and 111 male competitors taking part under social distancing rules. The event comprises a 400m swim in the Triangle pool, a 25km bike ride through country lanes in Wineham and Twineham, and a 5km run in Burgess Hill. About 15 other competitors also participated in either a short course triathlon or the aquabike option (swim and cycle only). This year the focus was on "participation not competition," getting everyone back into sport and back to normality. Fortunately, the weather was fantastic with fine, sunny and dry conditions, which helped create the celebratory atmosphere.
This event is suitable for experienced triathletes and novices. The club members marshal the event, providing encouragement to all competitors as they make their way around the course. It is also popular with all age groups with more than 50 competitors in the Vets 50+ age group and about 30 competitors in the 60+ group.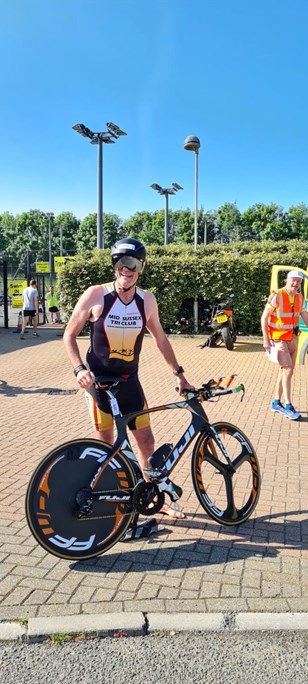 Covid restrictions really changed the logistics of the event, with competitors arriving in small groups, rather than one large start. The race itself was also changed, with the "transition" sections between the swim, bike and run untimed, to allow everyone to walk between disciplines and stay socially distanced. It was very relaxing in comparison to previous years and a great way for everyone to get back into racing. The winning times were 1.01.41 in the male section and 1.12.43 in the female section, but no prizes were awarded this year as the focus was not on competition.
Race Director Jo Fleming thanked all the club members whose collective efforts made the event both possible and also so enjoyable.
Comments from first time triathlon entrants,  "I really enjoyed the event today despite the nerves and consequential lack of sleep! What a lovely team you work with – absolutely each and every person was fantastic! As it was my first Tri, I learned so much, "  and " It was my first Triathlon and I used it as a mechanism for raising money for charity, so there was quite a lot at stake. However, my nerves were elevated by your very helpful and friendly volunteers, all happy and incredibly cheerful," show the enjoyment which all participants felt.
Former Race Director Steve McMenamin was finally able to take part this year, having organised the event for many years. He commented," It's strange to swap roles from race director to competitor but it was amazing, from the cowbells that I could hear under the water to all the shouts of encouragement out on the course."
Thanks so much to Jo and the whole of MST for yet another wonderful event.
All competitors received an attractive medal and refreshments at the finish.