The weekend was really busy with members competing internationally, locally and for charity:
European Sprint Duathalon Championships in Kalkar, Germany
Lucy Williams was extremely pleased to place 6th in her age group in the Sprint Duathalon (5km run 20km bike and 2.5km run). The event has a spectacular setting alongside the River Rhine and within the grounds of Wunderland Kalkar. Lucy commented that the event was awesome and she had surpassed all her expectations with the performance of her life so far (1.11.36) and this had really given her something to build on for the World Championships at Aviles in northern Spain in June.
Club Duathalon at Ardingly Reservoir raising funds for Chailey Heritage Foundation
The main club event was a Duathalon at Ardingly Reservoir with entry fees being donated to the Seymour Department at Chailey Heritage Foundation for their Activity Week. This raised about £250.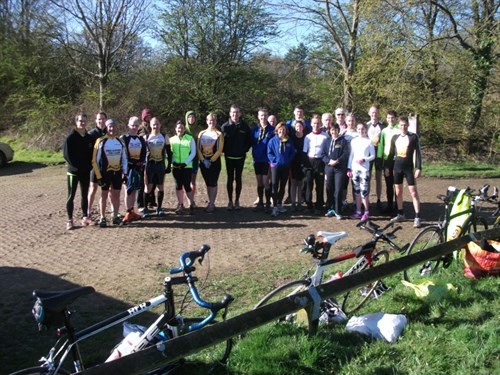 Twenty three members turned out on a sunny Sunday morning for this very enjoyable club event which had options for a Short Course of 5km run, 15mile bike 2.5km run or the Standard Course of 10km run 25mile bike and 5km run.
Twelve members chose the Short Course with George Murray coming home 1st in 1.23.53 and Mike Jaffe second in 1.26.35 in the men's section and Emma Jaffe 1.45.42 and Sarah Hinton claiming the top places in the women's section. The occasion was quite a family affair with five family teams taking part.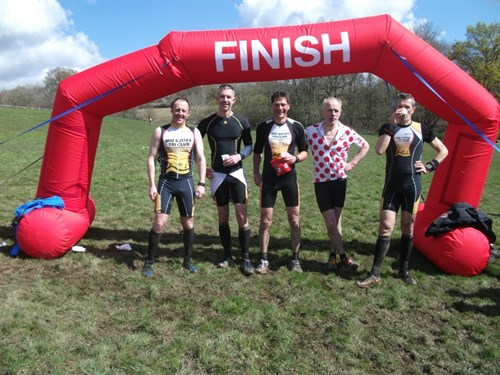 Brighton Marathon
Ten other members chose to do the Brighton Marathon. In the men's section Jim Graham was very pleased to record 2.51.49 giving him 32nd place overall and 6th place in his age group. Edward Cockill was delighted with 3.36 in his first marathon, and Doug MacTaggart felt comfortable with 3.53. Jim said he really enjoyed the run, got stronger during the race and felt good afterwards. Jim is in training for the Ironman World Championships in Hawaii in October, whilst Doug is training for the Comrades Marathon in South Africa at the end of May. This nearly 90km race starts in Pietermaritzburg and finishes in Durban. Doug is also competing in a couple of Ironmans later in the year. Peter Barnaby 3.46, and Simon Hodges 4.32 also competed. In the women's section Kate McTear came 42nd on 3.22.12, Nicola Cowles placed well on 4.37 with Amanda Durrant on 5.00, Kay Mcmenamin on 5.01 and Emma Smith on 5.54.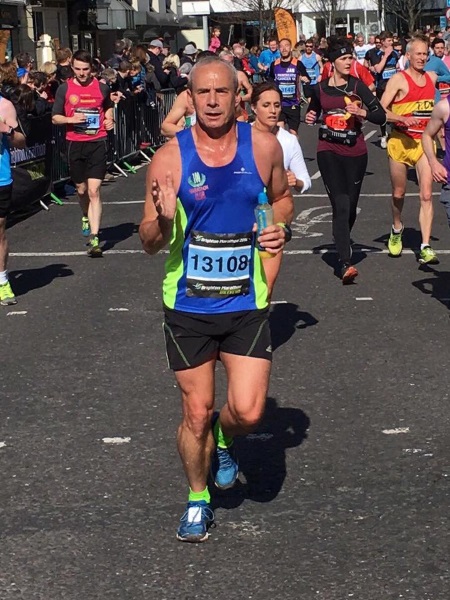 Windsor & Eton Duathalon
On Saturday Tony Asquith competed in the Standard Distance Duathalon (10km bike 40km bike 5km run) at the popular Olympic Rowing Centre at Dorney Lake recording 3.01. This is a flat course held on completely closed roads providing a safe environment. Tony commented that it was a really nice, traffic free event although the weather was poor. He is therefore looking forward to trying the event again in better weather.