In spite of very low temperatures (there was an average air temperature during the bike leg of 11C) culminating in torrential rain in the afternoon, there were 68 athletes taking part in the TriFest.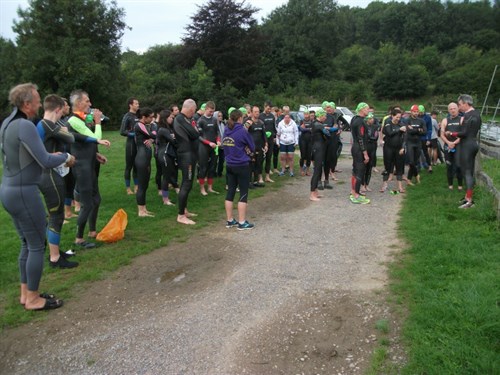 The increasing popularity of this annual event is impressive and gratifying. It is organised by Steve Alden, together with the help of other club members, who time keep, patrol in kayaks and safety boats, put up signage, act as spotters, carry out registration and generally ensure that the day passes without a hiccough.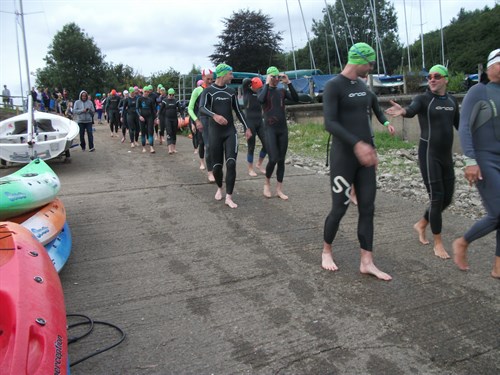 This year there were participants competing in Sprint distance, Olympic distance and Half Ironman distance groupings. The events began with a swim in Ardingly reservoir, followed by varying cycle routes through Turners Hill, Balcombe, Haywards Heath & Lindfield and finishing with the run sections around Ardingly Reservoir.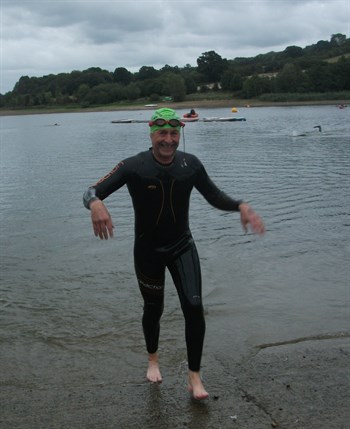 The sprint event was won by Jo Fleming in a time of 1.28.55 with Adam Bryant 2nd in 1.29.32. Jenny Blackwell was 1st woman to finish in 1.39.46 with Helens Jaconelli 2nd in 1.45.24.
The Olympic distance event was won by Ian Giles in 2.11.25 followed by Phil Couch in 2.14.56 and Andy McGregor in 2.25.30. Rachael Baker was 1st woman to finish in 2.29.20, followed by Lara Shoesmith in 2.58.11 and Sandra Westcott in 3.04.27.
The Half Ironman event was won by Matthew Chipping in 4.30.50, followed by Kate McTear in 4.34.06, Emily Iredale in 4.58.16, John McTear in 4.58.37, Anna Lawson in 5.02.36 and Steve Alden in 5.05.13.
Participants generally agreed that it was a great day; it was friendly and professional, with supportive and cheery volunteers. Thanks to everyone who took part.
The entry fees of 20 pounds each are collected and donated to the club's chosen charity Kangaroos, who organise year round clubs and trips out for children and adolescents with learning disabilities and complex medical needs. This year a very pleasing 1100 pounds was collected, which added to the 400 pounds collected in the earlier duathlon, makes a total of 1500 pounds raised so far this year.